We have installed numerous swimming pools for domestic and semi-commercial customers throughout the UK, we put our success down to one underpinning factor - exceptional customer service.
Endless Pools
Pool Installers specialise in Endless pools installation throughout the UK. Factory trained by Endless Pools in America, we have fully installed over 50 Endless Swimming Pool s in the UK. These range from a standard size,above ground Endless pool with a single propulsion unit, to the largest fully in ground, dual current propulsion units. In locations spanning from the south coast of England to the most remote Scottish islands.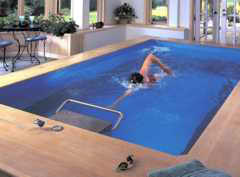 For full peace of mind, we can undertake your complete Endless Pool s install from planning your pool , the initial site preparation and groundwork's through to finish works and swimming pool completion.
We have found that for the most customers wanting an affordable all year round swimming pool and for those who have limited space the Endless Pools is a dream come true.


Follow the link for information about Endless Pools installation details or contact us

with you requirements.

Polypool Swimming Pool

For those more conformist customers looking for a "traditional " swimming pool for use in the British climate, there is only one product we recommended to maximise both the length of the UK swimming pool season and reduce your pool running costs. Which is Polypool.
Polypool developed and patented a unique system, becoming the only manufacturer of a heat retaining panel liner swimming pool system in the world. For more details on this follow the links on the left or dive in here.